Standard Housing Upgrades
Australian company Altra9 based in Queensland have designed a bolt in kit which fits into the factory housing. Suits -> 10 bolt small salisbury which is found in TD, TE, TF and TG models.
28 Spline Full Spool kit (suit drag/track only) -> $2160
28 Spline LSD Kit (street, track and drag racing) -> $2540
---
Gemini Control Arm Kit (single ladder bar)
McDonald Bros Racing in Melbourne, Australia supply a kit designed to replace the standard torque tube. It gives you the option to run any diff you wish such as a Commodore Borg Warner, Ford 9″ or Toyota Hilux etc. This type of setup is generally for off road/track use only that would require engineering to be street registered.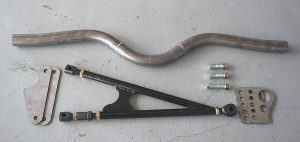 More info at McDonald Bro Racing's website.
---
Holden Gemini Full Spool Centre (28 spline)

Ultra Performance Components in Boronia, Victoria, Australia make full spool centres to suit standard diff housing. They are 28 spline and are $395 AUD + delivery.
More info at http://www.upc-online.com.au